5 Oct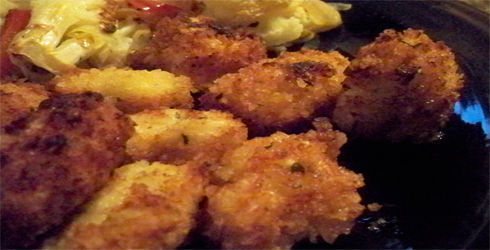 Chicken Nuggets are something that everyone has had before at some point in time.  If you have picky eaters in your house, you might have them more often then others.  Parents often pick up Chicken Nuggets in large bags from the freezer section or at fast food drive-thru's.  These are not Chicken Nuggets, don't fool yourself.  They are seriously lacking in flavor and texture.  Instead of feeding your family the fake imitations, serve up some of these awesome, flavorful, and easy homemade Chicken Nuggets.

This Chicken Nuggets Recipe is so tasty, and simple you'll never want to buy the alternative again.  The panko bread crumbs make for a super crunchy coating to tender chicken pieces.  Adding in the Ranch mix to the bread crumbs is what really gives them flavor and makes them super special.  You don't need a deep fryer to make these delicious nuggets, I fry them up in a large frying pan on the stove top.  You can serve Chicken Nuggets with a nice honey mustard sauce, ranch, or my favorite, blue cheese dressing mixed with some of my favorite hot sauce.  So amazing.
Chicken Nuggets Recipe
Vegetable oil (for frying)
1 package dry Hidden Valley Ranch seasoning mix
1 cup Panko bread crumbs
½ teaspoon salt
1-2 large eggs, lightly beaten
1 cup all-purpose flour
3 thin cut, boneless skinless chicken breasts, cut into 1-inch cubes
Pour oil to a depth of 2-iches in a large Dutch oven or deep-fryer.  Heat oil to 350°F.  In a bowl, combine ranch mix, panko bread cumbs, and salt.  In a second bowl add the egg and in a third bowl add the flour.
Dredge chicken cubes in flour, dip in beaten egg, and then coat in panko mixture.  Fry chicken nuggets, in batches, for 5 to 6 minutes or until done they are a nice golden brown.  Serve with dipping sauce of choice.