20 May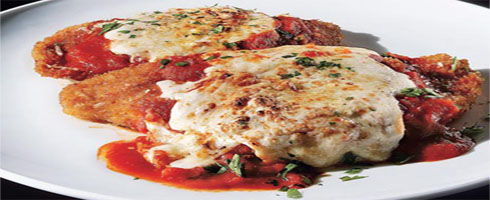 Chicken Parmesan – no good recipe collection is complete without it.  Recently a The Hungry Wife fan asked about a good Chicken Parmesan recipe, and this is what popped into my head.  Although we have not made it recently enough to have pictures, it is unforgettable.  Chicken Parmesan does not need to be complicated, and there are a lot of recipes out there that can make it harder than it seems.
This Chicken Parmesan recipe is perfectly portioned for two people, but can easily be made for extra servings.  All you have to do is increase ingredients to reach the desired serving size and instead of using an ovenproof skillet to bake the chicken, place chicken that has already been cooked in skillet into a 9 x 13-inch pan and cover with sauce and cheese and cook as directed in the recipe.  This also works if you do not have an ovenproof skillet.  No need to go buy one, simply use a casserole dish to finish that baking portion.
For many people, Chicken Parmesan is a comfort food.  To make it all the more special, be sure to cook up your own sauce with the recipe provided.  If you are short on time, you can use jarred pasta sauce.

Chicken Parmesan Recipe
1 cup Italian-seasoned breadcrumbs
2 tablespoons all-purpose flour
¼ teaspoon ground red pepper
2 skinned and boned chicken breasts
2 egg whites, lightly beaten
1 tablespoon olive oil
Tomato Sauce (recipe below)
1 cups (4 ounces) shredded mozzarella cheese
½ cup freshly grated Parmesan Cheese
Combine first 3 ingredients in a small bowl, and sent aside.  Place Chicken between 2 sheets of heavy-duty plastic wrap, and flatten to ¼-inch thickness, using a meat mallet or rolling pin.
Dip 1 chicken breast in egg white; dredge chicken in breadcrumb mixture to coat.  Dip again in egg white; coat again in breadcrumb mixture.  Repeat procedure with remaining chicken.
Cook chicken in hot oil in an ovenproof skillet over medium heat 2 to 3 minutes on each side or until done.  Top evenly with Tomato Sauce and cheeses.  Bake at 350° for 20 minutes.
Yield: 2 servings
Nutritional Information:
Per serving: 850 calories, 37.5 g fat, 67.6 g protein, 59.4 g carbohydrates, 4.8 g fiber, 120 mg cholesterol, 3355 mg sodium
Tomato Sauce Recipe
½ small onion, chopped
2 garlic cloves, minced
1 tablespoon olive oil
1 (14 ½ ounce) can diced tomatoes with basil, garlic, and oregano
¼ cup red wine
¼ teaspoon ground red pepper
½ teaspoon salt
¼ cup chopped fresh basil
Saute onion and garlic in hot oil over medium heat 5 to 7 minutes or until tender.  Add tomatoes, wine, and red pepper; simmer, uncovered, 20 minutes or until thoroughly heated.  Add salt and basil.
Yield: 1 ½ cups
Nutritional Information:
Per tablespoon: 13 calories, 0.6 g fat, 0.3 g protein, 1.8 g carbohydrates, 0.2 g fiber, 0 mg cholesterol, 137 mg sodium