20 Sep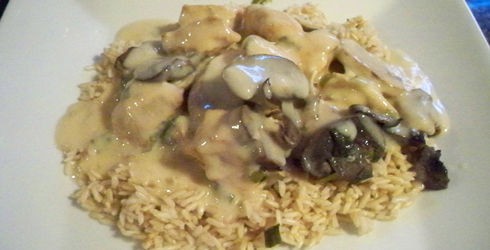 Creamy Chicken and Mushrooms is one of my all-time favorite comfort foods.  The gravy gives me this warm cozy feeling, and this simple dish is full of subtle flavors that make my mouth water.  Slow cooking the chicken not only saves you from having to make a big meal at the end of the day, but it makes the chicken pieces so tender they melt in your mouth.  Creamy Chicken and Mushrooms is perfect for a chilly day or anytime your looking for some of that special feeling that only comes from food made with the heat.

I'm a huge fan of cooking with wine.  I think a good wine can add so much to a dish, really makes it something special.  Not only is the chicken slow cooked in a white wine, but you also use the flavorful cooked juices to make the super creamy sauce!  I'm telling you, it's heaven.  One rule to live by when cooking with wine, is only use a wine that you yourself would drink.  Using a cooking wine bought at the grocery store will work, but won't add in as much or as deep a flavor as a good dry wine.
Creamy Chicken and Mushrooms Recipe
1 teaspoon salt
½ teaspoon black pepper
¼ teaspoon paprika
3 boneless skinless chicken breast halves, cut up
1 ¾ teaspoons chicken bouillon granules
1 ½ cups sliced fresh mushrooms
½ cup sliced green onions
1 cup white wine
½ cup water
1 can (5 ounces) evaporated milk
5 teaspoons cornstarch
Hot cooked rice
Combine salt, pepper and paprika in a small bowl; sprinkle over chicken.  Rub spices into chicken.
Alternate layers of chicken, bouillon, mushrooms and green onions in slow cooker.  Pour wine and water over top.  Cover; cook on HIGH 3 hours or on LOW 5 to 6 hours. Remove chicken and vegetables to platter, leaving liquid in slow cooker; cover to keep warm.
Combine evaporated milk and cornstarch in a small saucepan until smooth.  Gradually stir in 2 cups liquid from slow cooker.  Bring to a boil.  Boil 1 minute or until thickened, stirring constantly.  To serve, spoon sauce over chicken and rice.
Makes 3 to 4 servings