6 Oct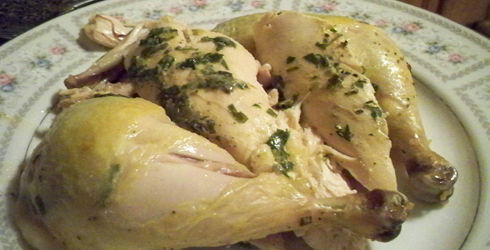 With the anticipation of fall food and Thanksgiving around the corner, I have been craving traditional comfort foods like your favorite bird, gravy, mashed potatoes, and cranberry relish.  In order to satisfy my desires I decided to cook up a mini Thanksgiving feast.  Herb and Mustard Turkey with Green Onion Gravy is the ultimate (and my favorite) recipe that meets this criteria.  To scale it down to size for a dinner for two, I used a whole chicken instead of a turkey.  This helped provide enough leftovers to make an amazing chicken salad and homemade chicken stock.

I wanted to provide you with the turkey recipe, but know that you can reduce the Herb and Mustard Butter and Green onion Gravy to accomodate a chicken for smaller servings.  By rubbing the Herb and Mustard Butter under the skin on the meat, makes the final result extremely moist and infused with flavor.  It may seem complicated, but is actually very simple and well worth the little bit of extra effort.
Herb and Mustard Turkey with Green Onion Gravy Recipe
Herb and Mustard Butter:
¾ cup (1 ½ sticks) unsalted butter, room temperature
1/3 cup finely chopped green onion tops
1/3 cup finely chopped fresh Italian parsley
2 tablespoons chopped fresh thyme
1 ½ tablespoons chopped fresh sage
1 tablespoon Dijon mustard
1 ½ teaspoons salt
1 ¼ teaspoons coarsely ground black pepper
Whisk all ingredients in medium bowl.  Can be made 2 days ahead.  Cover and chill.  Bring to room temperature before using.
Turkey:
1 14- to 16-pound turkey, rinsed, patted dry inside and out; neck, heart, and gizzard reserved for making stock, if you wish
10 fresh Italian parsley sprigs
6 fresh sage sprigs
6 fresh thyme sprigs
2 tablespoons olive oil
2 cups of turkey/chicken stock or water
Set rack at lowest position in oven and preheat to 325°F.  Sprinkle main turkey cavity with salt and pepper and spread with 2 tablespoons herb-mustard butter.  Starting at neck end of turkey, carefully slide hand between skin and meat of breast, thighs, and upper drumsticks to loosen skin.  Spread herb butter over thigh and drumsticks, then over breast meat under skin.  Fill main cavity with parsley, sage, and thyme sprigs.  Tie legs together loosely.  Tuck wing tips under.
Place turkey on rack set in large roasting pan.  Rub outside of turkey all over with oil; sprinkle with salt and pepper.  Pour stock into pan.  Roast turkey until thermometer inserted into thickest part of thigh registers 165°F to 170°F, about 3 hours.  Tilt turkey so juices from main cavity run into pan.  Transfer turkey to platter.  Tent very loosely with foil; let rest at least 30 minutes (internal temperature will rise 5 to 10 degrees).  Reserve pan.
Gravy:
2 cups (or more) turkey or chicken stock
2 tablespoons water
4 teaspoons cornstarch
3 green onions, white parts and green tops chopped separately
½ cup heavy whipping cream
1 tablespoon chopped fresh Italian parsley
1 tablespoon chopped fresh sage
1 teaspoon chopped fresh thyme
Salt and pepper
Scrape juices and browned bits from reserved roasting pan into large glass measuring cup.  Spoon off fat, reserving 2 tablespoons.  Add enough stock to pan juices to measure 2 cups.  Whisk together 2 tablespoons water and cornstarch  in small bowl until smooth.
Heat 2 tablespoons reserved fat in large saucepan over medium heat.  Add white parts of green onions.  Saute until beginning to color, about 6 minutes.  Add the 2 cups pan juices/stock, and cream.  Whisk in cornstarch mixture.  Simmer until reduced to desired consistency, whisking occasionally, about 8 minutes (usually takes me longer then this).  Stir in herbs and green onion tops.  Season with salt and pepper.
Makes 10 to 12 servings