15 Apr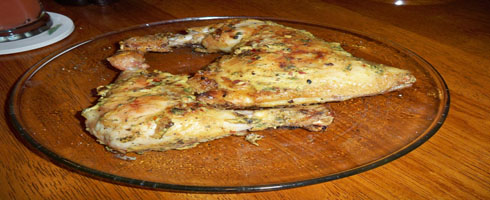 I am very happy to say that dinner tonight was a complete success.  Grilled Herb Mustard Chicken Quarters are amazing, and will turn even the most skeptical eater, into a grilled chicken lover.  I have made this chicken several times before, and it is always a crowd pleaser.  It is a nice alternative to all those BBQ chicken recipes out there.
When grilling chicken, sometimes chicken breast can get a little dry.  By using chicken quarters, leaving on the skin, the meat will stay super juicy and delicious.  To cut down on the fat, you can use skinless quarters or chicken breasts, cooking at a lower temperature to keep everything nice and moist.  The Herb Mustard marinade is also wonderful on pork chops.  Next time you fire up that grill, give this a try.
Herb-Mustard Chicken Quarters Recipe
4  tablespoons creamy Dijon mustard blend
2  tablespoon snipped fresh parsley
2  tablespoon snipped fresh oregano or 1 teaspoon dried oregano, crushed
2  tablespoon water
1/4 teaspoon ground red pepper
1 3-3 ½ pound whole broiler-fryer chicken, cut into quarters
drizzle of vegetable oil
Salt and freshly ground black pepper
For sauce, in a small bowl combine mustard blend, parsley, oregano, water, and red pepper.  Cover and chill until ready to use.
If desired, remove skin from chicken.  Preheat grill.  Reduce heat to medium.  Rub some vegetable oil on chicken.  Season with salt and pepper.  Place chicken, bone sides down, on grill rack. Cover and grill for 20 minutes.  Turn chicken over and grill for about another 10 minutes.  During the last ten minutes of grilling, brush both sides occasionally with sauce, using all the sauce.  Cook until temperature meat temperature reaches 165°.
Nutritional Information:
Per serving: 288 calories, 16 g total fat (4 g saturated fat), 102 mg cholesterol, 201 mg sodium, 2 g carbohydrates, 0 g fiber, 32 g protein.