6 May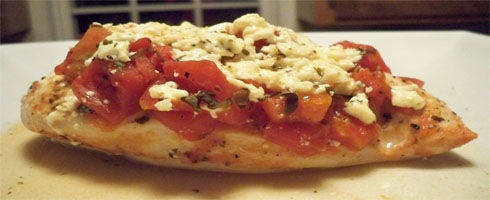 I found this recipe for Italian Chicken in a cookbook my husband bought me at his work. It is a collection of recipes from various people he works with, and I must say, these Information Systems people know how to cook. I'm going to share with you a recipe for Italian Chicken that is extremely easy to prepare (it only has 4 ingredients), and tastes pretty darn good.
It was about almost 7pm and I hadn't started dinner or really even thought about what we could eat yet.  The household was getting hungry. I needed to come up with something quick, and this is exactly what I was looking for. When you want something to eat that doesn't require a lot of effort, this Italian Chicken is it. The recipe calls for feta cheese, but honestly, I think you could use whatever you have available. Of course, mozzarella would be the most "Italian", but the feta does bring a really nice taste to the chicken. An extra flavor to kick it up a bit.
Italian Chicken Recipe
3 boneless, skinless chicken breasts
1 can Italian tomatoes, diced
½ teaspoon basil
½ cup Feta cheese
Preheat oven to 350°. Place chicken in a greased casserole. Pour tomatoes over the top of the chicken and sprinkle basil over the tomatoes. Cover and bake for 50 minutes. Remove and sprinkle the cheese on top. Bake for an additional 10 minutes uncovered.