15 Jun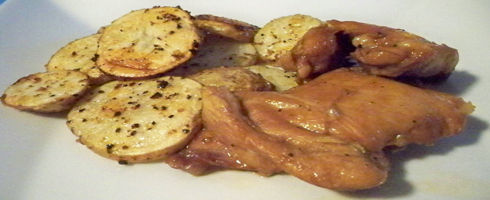 Molasses-Glazed Chicken Thighs are a true summer time delight.  The combination of sweet and savory is what really makes this dish.  Molasses gets a nice carmelized flavor and the soy sauce keeps it from getting out-of-control sweet.

I think thighs have much more flavor than breasts. True, they have more fat but as a commenter pointed out recently, they have more iron and other nutrients too. And, although dark meat, has more saturated fat than white meat, two-thirds of its fat is healthy polyunsaturated and monounsaturated fat. It's not the evil option that many think it is. The Hungry Wife still likes to cook with white meat of course, but the dark meat is a nice change of pace.  Plus, I've always been one of those people who, at holidays where turkey is involved, chooses the dark meat.
Molasses-Glazed Thighs are reminiscent of teriyaki style chicken. It is totally delicious and enjoyable.  On a side note, I did not grill these as it was raining.  So instead, I broiled them and feel they worked out very well.  I find that they do not dry out a easily as chicken breasts do.
Skinned and boned Chicken Thighs are available in the fresh poultry section of most supermarkets.
Molasses-Glazed Chicken Thighs Recipe
¾ cup molasses
½ cup soy sauce
¼ cup fresh lemon juice
¼ cup olive oil
3 garlic cloves, minced
1 teaspoon pepper
12 skinned and boned chicken thighs
Combine first 6 ingredients in a shallow dish or large zip-top freezer bag; add chicken thighs.  Cover or seal, and chill 8 hours, turning occasionally.
Remove chicken from marinade, discarding marinade.
Grill chicken thighs, covered with grill lid, over medium heat (300° to 350°) 5 to 6 minutes on each side or until done.
Makes 6 servings
Nutritional Information
Per serving: 332 calories, 16.2 g fat, 28.8 g protein, 16.6 g carbohydrates, 0.2 g fiber, 102 mg cholesterol, 548 mg sodium