28 Apr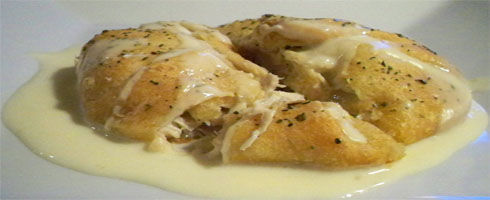 We love this Savory Chicken Squares recipe and think you will as well.  I love finding different ways to cook up chicken, and there are many.
At first glance this Savory Chicken Squares recipe might seem a little strange and even intimidating if you don't normally wrap you food up in toasty dough.  Let me put your fears to rest, this is a simple dish that has a traditional comfort food taste.  It cooks up quick if you have the chicken pre-cooked.
You can also add a little variety to this recipe by maybe adding some Swiss cheese to chicken mixture, using turkey or ham, or some additional veggies like celery or carrots.  I've have also seen similar recipes that use phyllo dough, so have some fun with it.
If your a busy person/family that does not normally have a lot of time to mess with making dinners, it is a good idea to keep some cooked chicken breasts in your freezer in order to whip up quick meals.  I simply boil chicken breasts in a pot of water and then cube them, and place them well protected in the freezer.  They will keep for a little bit, and this way when you don't have the time bake or grill your chicken, you can take the cooked chicken out and use it in a recipe like this.
Savory Chicken Squares Recipe:
3 ounces cream cheese
2 tablespoons margarine
2 cups cooked diced chicken or turkey
¼ teaspoon salt
1/8 teaspoon pepper
2 tablespoons milk
1 tablespoon chopped onion
1 (8-ounce) can Pillsbury crescent rolls
Melted butter
Italian seasoning
1 (10 ¾ ounce can cream of chicken soup
Half-and-half
Preheat oven to 350°.  Line a baking sheet with parchment paper or grease the sheet.  Blend cream cheese and margarine in a large bowl.  Add in the next 5 ingredients and mix together.  Separate crescent rolls.  Form into rectangular shape by sealing the two rolls together.  Roll dough a little to make thinner.  Place dough on baking sheet, and spoon ½ cup of the chicken mixture in the center of the dough.  Bring the 4 corners together and pinch to seal.  Brush top with melted butter and sprinkle with Italian seasoning.  Bake for 20-25 minutes.
Serve with cream sauce made with cream of chicken soup diluted with half-and-half.  Use only enough half-and-half to make a cream sauce
.