9 Sep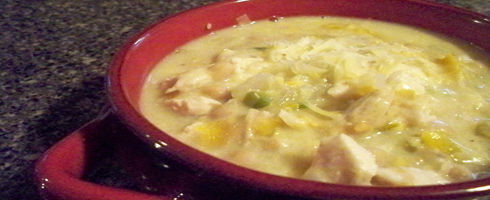 I love how chili has the ability to be very dynamic with flavors and spices exploding in your mouth.  Each chili has subtle differences, yet they are also very familiar.  There is nothing better than red chili, but every now and then it is nice to divert from the norm and create something every bit as flavorful but completely different.

White Chicken Chili with Aged Cheddar Cheese is The Hungry Wife version of white chili.  I love white chili. And just like regular chili, there are as many incarnations as there are grains of sand in all the beaches of the world. Some white chili is soupy and creamy, with chunks of chickens and beans. Some white chili is vegetarian, without an ounce of chicken in sight. Other white chili, like the one I make, is a nice balance of all the ingredients and similar to a corn chowder with chicken and some spices added in.
My favorite part about this White Chicken Chili with Aged Cheddar Cheese is the sharp, nutty flavor that the cheddar cheese adds.  When picking out a Cheddar to use for this recipe, be sure to choose a white Cheddar cheese, this keeps the "white" in the white chili.  Personally, I think the sharper the cheese the better, so I always use an extra sharp Cheddar.  This recipe can be made in about 20 minutes, and is perfect for a weeknight meal.  To save yourself even more time, cook up chicken ahead of time, cut it up and put it in your freezer until you plan to use it.  This makes dinners a snap, saving you time and money.
White Chicken Chili with Aged Cheddar Cheese Recipe
1 teaspoon olive oil
1 medium onion, chopped (1 cup)
1 medium yellow bell pepper, chopped (1 cup)
1 tablespoon minced fresh jalapeno
1 ½ teaspoons ground cumin
1 (15 ounce) can cream-style corn
1 (7 ounce) can diced mild green chilies
2 cups whole milk
1 (15 ounce) can navy beans, rinsed and drained
2 cups shredded cooked chicken
1 ½ cups (4 ounces) shredded Cheddar Cheese
In a large skillet, heat oil over high heat.  Add onion, pepper, and jalapeno and cook, stirring often, until onion is softened, about 3 to 4 minutes.  Add cumin, corn, green chilies, milk, and navy beans.  Bring to a boil, then reduce heat, cover and simmer for 10 minutes, stirring occasionally.  Add chicken, and salt and pepper to taste.  Stir in the aged cheddar cheese and serve immediately.