21 Jun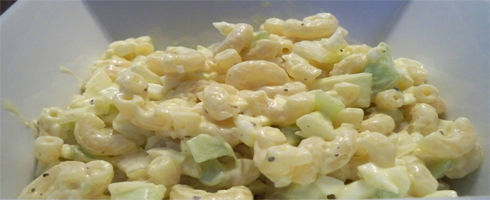 The Hungry Wife is kicking off Summer Salad Week with this traditional family favorite, Classic Macaroni Salad.  All this week, I will be bringing you our favorite summer salads.  Everyone has a classic side dish that no summer get-together is complete without.  These salad recipes I am providing, will be perfect for any summer time event.  Some of them, like this Classic Macaroni Salad, are simple and remind you of childhood Bar-B-Que's and family reunions.

For me, Classic Macaroni Salad is best kept simple with only the necessary ingredients.  And that is what this recipe delivers, simple, traditional and delicious.  I like nothing more than celery, onions, hard-boiled eggs, mayo, and a touch of mustard.  There are a lot of macaroni salad recipes out there, but of course, I think this one is the best.  I guarantee that this Classic Macaroni Salad recipe will come out on top of all the other recipes out there, and out do any store bought deli brand.
Classic Macaroni Salad should be more than just a summer time salad, I want to eat it year round.  I think we should use Hawaii as an example, and serve "mac sal" with every meal as a side dish.  If you like Classic Macaroni Salad as much as The Hungry Wife, then do yourself a favor and give this one a try.  A note about the recipe, I generally double the recipe when I make this.  That is about 1/2 lbs of dry mac.
Classic Macaroni Salad Recipes
2  cups cooked macaroni, drained, rinsed, cooled
2  hard-cooked eggs, chopped
¼ cup celery, chopped
¼ cup onion, chopped
1/3 to ½ cup mayonnaise or salad dressing
2  teaspoons sugar
2  teaspoons vinegar
½ teaspoon salt, or to taste
½ teaspoon prepared mustard
pepper to taste
Combine all macaroni salad ingredients, using about 1/3 cup of mayonnaise and stir well.  Add a little more mayonnaise, is necessary.  Taste and adjust seasoning.  Cover and chill for several hours before serving.  Makes about 4 servings of macaroni salad.
Makes 4 servings