22 Jun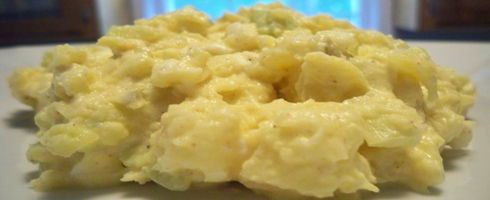 Classic Potato Salad is just one of two potato salads The Hungry Wife will be featuring.  We'll start with the Classic Potato Salad and then get a little more daring.  This recipe is simple and delicious, with traditional ingredients sure to be loved by all.

When looking at potatoes to use for Classic Potato Salad, it's important to select a variety  that keeps its shape when cooked.  Starch content is the defining factor in texture and usage.  Russet or Idaho are the highest in starch and are best for baked potatoes, pureed soups, French Fries, and potato pancakes.  Waxy, such as fingerling, most red varieties, and some of the round whites, are lower in starch and hold together when cooked, an asset for salads, gratins, and stews and for roasting and boiling.
Popular yellow-fleshed varieties of potatoes, like Yukon Gold and Yellow Finn, are medium starchy and versatile enough for all purposes.  The Potato Harvest Cookbook gives two simple guidelines for determining a spud's starch content.
Cut the potato in half; if the blade is filmy or has a foamy residue, or if the spud sticks to the knife, its starch content is high.
If you're a science buff, make a brine of 11 parts water to 1 part salt.  Drop in the potato.  A high-starch potato is denser and will sink; low-starch types will float.
Boiling potato in their skins prevents them from absorbing too much water during cooking and ensures firm potato for salads.
Classic Potato Salad Recipe
6 medium potatoes (2 pounds)
1 cup mayonnaise or salad dressing
3-4 tablespoons prepared spicy mustard, to taste
½ teaspoon salt
¼ teaspoon black pepper
1 cup thinly sliced celery
1/3 cup chopped onion (1 small)
¼ cup dill pickle relish or chopped dill pickles (can use sweet if desired)
5 Hard-Cooked Eggs, coarsely chopped
Lettuce leaves (optional)
Paprika (optional)
In a medium saucepan place potato and a small amount of water to cover and, if desired, ¼ teaspoon salt.  Bring to boiling; reduce heat.  Simmer, covered, for 20 to 25 minutes or until just tender.  Drain well; cool slightly.  Peel and cube potato.
Meanwhile, for dressing, in a large bowl combine the mayonnaise, mustard, the ½ teaspoon salt, and pepper.
Stir in the celery, onion, and pickles.  Add potato and eggs.  Toss lightly to coat. Cover and chill for 6 to 24 hours.
To serve, if desired, line a salad bowl with lettuce leaves.  Transfer the potato salad to the bowl.  If desired, sprinkle with paprika.
Makes 12 side dish servings
Nutritional Information
Per serving: 277 calories, 21 g total fat, 120 mg cholesterol, 337 mg sodium, 18 g carbohydrates, 2 g fiber, 5 g protein