19 Jun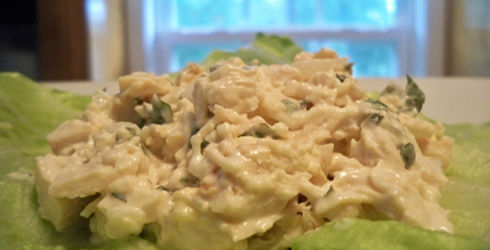 Here comes the heat, and that often means adjusting the type of cooking we do.  Cool Lemon Chicken Salad fits right into summertime cooking.  When it's hot outside, I like to eat things that are light, cool, easy to prepare, and taste wonderful.  Cool Lemon Chicken Salad is one of The Hungry Wife's favorite summer meals.  The lemon and basil makes this Chicken Salad super refreshing, and perfect to eat rolled up in a lettuce leaf.

The great thing about Chicken Salad is that there are so many different variations and ingredients you can add to it.  Cool Lemon Chicken Salad is a simple recipe, but you can make it more exotic by adding 1 cup of halved red or green seedless grapes, and 1/2 cup of halved snow peas.  I like to use rotisserie chicken, bought from our local market to make this Cool Lemon Salad.  Not only does buying the cooked rotisserie chicken save you a bunch of time and mess, but it also has the super moist texture and amazing flavor.  I went for the Lemon-Pepper Chicken for this recipe, thinking it would go well with the other ingredients.
Next time you need a to make a quick meal, healthy meal, think about making some Cool Lemon Chicken Salad.  It is great for lunch or a picnic.  This is truly a salad for a sultry day.
Cool Lemon Chicken Salad Recipe
½ cup mayonnaise
2 tablespoons chopped fresh basil or 2 teaspoons dried basil
1 tablespoon fresh lemon juice
1 teaspoon freshly grated lemon zest
2 cups chopped, cooked chicken
1 cup halved red or green seedless grapes (optional)
½ cup halved snow peas (optional)
½ cup thinly sliced red onion
Lettuce leaves
In a large bowl, combine mayonnaise, basil, lemon juice, and lemon zest.  Add chicken, onions, and if you like, grapes and snow peas; toss gently.  Chill and serve on a lettuce-lined platter
Makes 4 servings