12 Jun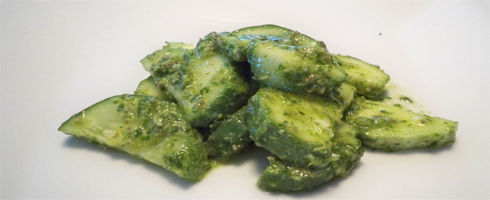 Cool and crisp, refreshing and cleansing, Cucumber Salads are important in cuisines around the world.  At The Hungry Wife we love eating them with Indian, Eastern European, Middle Eastern, and North African main dishes.  Pour our easily prepared dressings on a few sliced cucumbers and you have a little side dish, salad, or garnish that can really make the meal.

In order to blend the dressing well, it's necessary to make more than in needed for the Cucumber Salad.  The remaining dressing will keep for several days refrigerated in a tightly covered container.  It can also be made ahead and refrigerated until ready to use.
This Arugula Caper Dressing is also good over potatoes or green beans.
Cucumbers with Arugula Caper Dressing Recipe
3 cups cucumber crescents*
Arugula Caper Dressing:
2 slices French or Italian bread, crusts removed
2 tablespoons cider vinegar or white balsamic vinegar
1 cup fresh arugula leaves
1 tablespoon capers, rinsed
1/3 cup extra-virgin olive oil
*Peel 3 medium cucumbers, halve them lengthwise, and scoop out the seeds with a spoon.  Slice crosswise into ½-inch thick crescents.
Place the cucumbers in a serving bowl and set aside.  Put the bread in a separate bowl, pour the vinegar over it, and let it soak for 5 minutes.
Meanwhile, place the arugula, capers, and olive oil in a blender.  With your hands, gently squeeze the excess vinegar from the soaked bread and add the bread to the blender.  Blend on high speed until the dressing is uniformly colored and very smooth, about 30 seconds.  Scrape down the sides of the blender, if necessary.
Add about half of the dressing to the cucumbers and stir gently to evenly coat.  Serve chilled.
Makes 4 servings
Nutritional Information
Per 6-ounce serving: 251 calories, 3.2 g protein, 19.8 g fat, 16.4 g carbohydrates, 2.7 g saturated fatty acids, 0 mg cholesterol, 202 mg sodium, 1.8 g total dietary fiber.
Moosewood Restaurant New Classics, Copyright 2001, Moosewood, Inc., Clarkson Potter, Publishers