21 Sep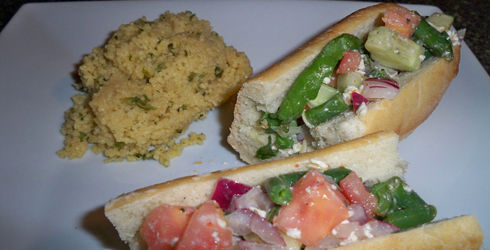 Every now and then I like to go meatless for dinner.  It is a great way to pack in all those veggies and vitamins, and get a super healthy and filling meal.  One of the best things about The Greek Salad Baguette is that you can make it as a sandwich like the recipe suggests, or you can serve it as a side salad.  It is so good both ways.  I particularly like to make Greek Salad Baguette with a sourdough loaf and serve with a side of couscous.

Baguette is another name for a long loaf of French bread.  Some are much too thin to be stuffed, so try and look for a nice thick one.  An alternative is to stuff the filling into large pitas.  I like added in a little bit more cheese then the recipe suggests.  An herbed feta works great, and adds that bit of something extra special.
Greek Salad Baguette Recipe
1 ½ cups shredded romaine lettuce
1 cup cut (1" pieces) green beans, cooked
1 cup chopped tomatoes
1 cup chopped cucumbers
½ cup chopped red onions
2 ounces goat cheese or feta cheese, crumbled (or more if desired)
2 tablespoons chopped fresh mint
2 tablespoons red wine vinegar
1 tablespoon olive oil
1 tablespoon water
½ teaspoon dried oregano
¼ teaspoon freshly ground black pepper
1 large baguette, halved lengthwise
½ cup fresh basil leaves
In a medium bowl, combine the lettuce, beans, tomatoes, cucumbers, onions, goat cheese or feta and mint.
In a small bowl, whisk together the vinegar, oil, water, oregano and pepper.  Pour over the lettuce mixture; toss to mix well.
Line the bottom of the baguette with the basil.  Spread with lettuce mixture.  Replace the top of the loaf.  Cut into 4 equal pieces.
Makes 4 servings
Nutritional Information:
Per serving: 257 calories, 4.8 g fat, 3.7 g dietary fiber, 7 mg cholesterol, 328 mg sodium