19 Jul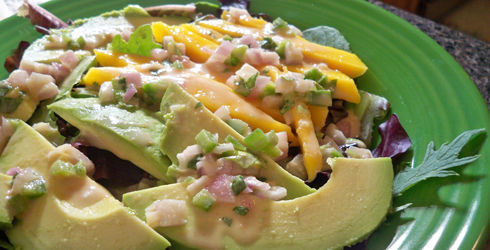 With summer bringing the hottest days of the year, Mango and Avocado Salad with Peanut Dressing is something you will want to eat nearly every day.  This salad can be served as a starter dish or pile it up to make a super refreshing lunch to get you through the hot days.

Summer heat and humidity can make a person lose their appetite, but Mango and Avocado Salad is something you won't mind eating when it is 103 degrees outside.  The Peanut Dressing has a light peanut flavor, not too overpowering, and works so well with the sweetness of the mango.  You don't need much of it to make an impact, so this is one dressing you will not need to serve on the side.
This summer favorite with Peanut Dressing is a simple salad that packs a ton of flavor.
Mango and Avocado Salad with Peanut Dressing Recipe
2 tablespoons unsweetened coconut milk
2 tablespoons lime juice
1 tablespoon peanut butter
1 tablespoon water
1 teaspoon jalapeno, minced
1 teaspoon brown sugar
1 tablespoon cilantro, chopped
1 shallot, minced
1 cup arugula or spring mix salad
1 mango, cut into thin slices
2 medium avocados, cut into thin slices
2 tablespoons toasted chopped peanuts (optional)
Whisk first 6 ingredients in a medium bowl.  Stir in cilantro and shallot.  Divide arugula among four plates.  Fan mango and avocado slices over the arugula.  Drizzle with peanut dressing and sprinkle with chopped peanuts if you like.
Makes 4 servings