7 Jan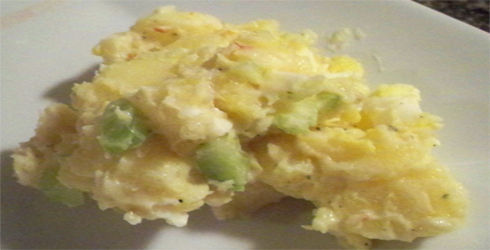 Mom's Potato Salad is the third Potato Salad recipe The Hungry Wife is featuring.  I don't think it is possible to have too many salad recipes, especially when they are so delicious and make excellent side dishes.  This particular recipe is one from my mother, and even though it is basically a classic potato salad, it has a nice twist.  The addition of Italian salad dressing provides a whole new dynamic into the flavor mix.

Boiling potatoes in about an inch of water and peeling/chopping later, will help save you time.  Trust me, peeling cooked potatoes are much easier then doing it uncooked.  Just make sure you let them cool down properly or you'll be playing hot potato with yourself in the kitchen.  Using Italian dressing in your salad will help you reduce the amount of mayonnaise you might normally put in, and also decrease the amount of salt you use.
If you are looking for a new potato salad recipe with a bit of a kick, give this one a try.  My mother has been making it for years, and it was an instant hit in our family.  Simple yet intense, just what I love to make and eat!
Mom's Potato Salad Recipe
2 pounds potatoes (about 6)
¼ cup finely chopped onion
1 teaspoon salt
1/8 teaspoon pepper
¼ cup Italian salad dressing
½ cup mayonnaise
½ cup chopped celery
2 hard cooked eggs, cut up
Wash potatoes.  Heat 1 inch salted water to boiling in a large pot.  Add unpared/unpeeled potatoes to water.  Cover tightly; bring back to boil and cook for 30 to 35 minutes or until tender.  Drain; cool and peel potatoes. Cut potatoes into cubes, combine in a large bowl with onion.  Sprinkle with salt and pepper; add Italian dressing and mix well.  Cover bowl; refrigerate at least 2 hours.
Just before serving, add mayonnaise; toss until potatoes are well coated.  Stir in celery and eggs.
Makes 4 to 6 servings