15 May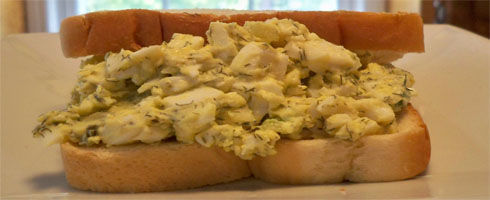 All of us at The Hungry Wife had a great time tinkering with this perennial favorite.  The simplest egg salad made with fresh eggs, crisp celery, a good mayonnaise, and quality mustard is hard to beat.  But hard-boiled eggs and mayonnaise are a fine vehicle for a host of other ingredients and seasonings.
Here is an egg salad that can be eaten as a sandwich, spread, or canapes, or stuffed into ripe juicy tomatoes shells, crisp cucumber shells, or bell pepper halves.
Serve Scandinavian Egg Salad as a sandwich between slices of whole wheat bread, baguette, or a coarse country-style bread with tender leaf lettuce and sliced tomato.  As an appetizer, serve with sesame crackers, pita, or rye crackers.
Reduce the fat content of Scandinavian Egg Salad by discarding the cooked yolks of five of the eggs.  If you don't have a 2-quart saucepan, a larger one is okay – just use enough water to immerse the eggs completely.

Scandinavian Egg Salad Recipe
8 eggs
4 cups of water
¼ cup chopped celery
3 tablespoons chopped fresh dill
¼ cup thinly sliced scallion greens or red onions
1 tablespoon capers, drained and large ones chopped
¼ cup prepared mayonnaise
1 to 2 tablespoons prepared white horseradish
¼ teaspoon salt, or to taste
ground black pepper to taste
Bring the eggs and water to a boil in a covered 2-quart saucepan.  Reduce the heat to a rapid simmer and cook for 10 minutes.
While the eggs cook, prepare the remaining ingredients in a small bowl.  Mix well.  Once eggs are done, submerge the cooked eggs in cold water and crack the shells to facilitate peeling.  As soon as the eggs are cool enough to handle, peel them and transfer to a large bowl.
Mash the eggs well with a potato masher or fork.  Add the remaining ingredients (except salt and pepper, if you want to add them to taste).  Stir everything gently to combine and serve.
Nutritional Information:
Per 3.5 ounce serving:  164 calories, 10.2 g protein, 11.6 g fat, 4.2 g carbohydrates, 3 g saturated fatty acids, 336.3 mg cholesterol, 304.6 mg sodium, 0.3 g total dietary fiber.