21 Mar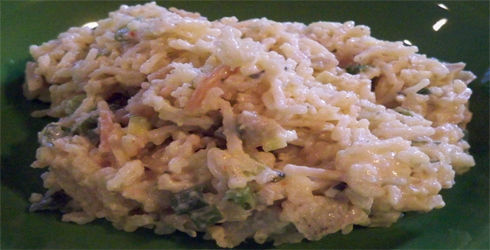 I'm always looking for new salads to make, getting away from the tradition potato, pasta, egg, ect.  During the warm spring and summer months, salads can be so much more then a side dish.  I like to make several different salads and have them as the main meal.  Summer Rice Salad is wonderful!  I love that Summer Rice Salad is a refreshing, cooling, and flavorful dish that is unlike all those other summer salads.  Using rice as the main ingredient in salads is a nice departure from the tradition, and is lighter to eat on hot summer days then a heavy potato or pasta.

Summer Rice Salad is simple to prepare and the flavors go together so well, giving you a delicate flavor that you wont find in any other dish on the picnic table this summer.  Mixing the artichoke marinade with mayonnaise is an excellent way to add flavor and cut down on the mayonnaise in the salad.  Often, many of the summer side dishes are loaded with mayonnaise.  This is a great way to cut down and still have a creamy delicious salad.  Chopping the artichokes is a great way to get them in the salad but not overwhelm it, and the little dash of curry powder gives Summer Rice Salad that extra special spice that it needs.
Summer Rice Salad Recipe
1 (6 ½ ounce) jar marinated artichoke hearts, chopped
1/3 cup mayonnaise
1 box Chicken Rice-a-Roni
¼ teaspoon curry powder
½ cup chopped green pepper
6 spring onions, chopped
Remove artichoke hearts from jar and chop, reserve the marinade.  Add the mayonnaise to the marinade, mix well and set aside.  Cook the Rice-a-Roni as directed on box; mix all the ingredients together with the rice and marinade.  Refrigerate salad for at least 2 hours, best is let to rest overnight.  To make a complete meal platter, serve surrounded with hard-cooked egg halves, sliced tomatoes, asparagus spears rolled in ham slices, and black olives.
Serves 6-8