2 Dec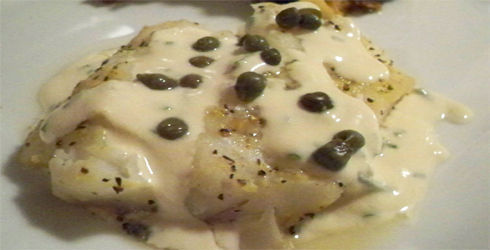 I love when I find delicious low-fat, low-calorie and easy to make recipes.  Dijon Mustard Filets delivers all of the above.  Eating fish is one of the best things you can do do improve your diet and health.  Our household doesn't eat fish nearly enough, and most of that is due to the fact that I can be a bit picky when it comes to choosing the right fish to cook.  I've had the privilege of eating the freshest fish, straight from the ocean, so I sometimes I have issues with the fish sold in supermarkets.  If I can't find some decent fresh fish at the counter, I usually buy frozen wild caught Alaskan fish.  My favorite fish, which work wonderful with many recipes including this one, are Halibut, Cod, and Petrale Sole.  Not only do these fish taste great and are easy to cook, but they don't make your house smell fishy when cooking them.

Dijon Mustard Filets are easy to make, and use minimal ingredients.  When cooking fish, it is really easy to over season and over sauce them.  You want to add flavor, but in a way that enhances the fish.  This recipe cooks up in about 18 minutes, making it the perfect weeknight meal.
Dijon Mustard Filets Recipe
1 pound fresh or frozen fish fillets, ½ to 1 inch thick
Lemon-pepper seasoning
¼ cup dairy sour cream
1 tablespoon milk
1 tablespoon Dijon-style mustard
2 teaspoons snipped fresh chives or chopped green onion tops
2 to 3 teaspoons caper, drained (optional)
Thaw fish, if frozen.  Rinse fish; pat dry with paper towels.  Cut into 4 serving-size pieces, if necessary.  Measure thickness of fish.  Place fish on a greased unheated rack of a broiler pan.  Turn any thin portions under to make uniform thickness.  Sprinkle fish with lemon-pepper seasoning.
Broil 4 inches from the heat until fish flakes easily when tested with a fork (allow 4 to 6 minutes per ½ inch thickness).  If fillets are 1 inch thick, turn once halfway through broiling.
Meanwhile, in a small saucepan stir together sour cream, milk, mustard, and chives.  Cook and stir over low heat until heated through (do not boil).  Spoon sauce over fish to serve.  Sprinkle with capers, if desired.
Makes 4 servings
Nutritional Information:
Per serving:  112 calories, 4 g total fat, 28 mg cholesterol, 237 mg sodium, 1 g carbohydrates, 0 g fiber, 17 g protein