13 Jul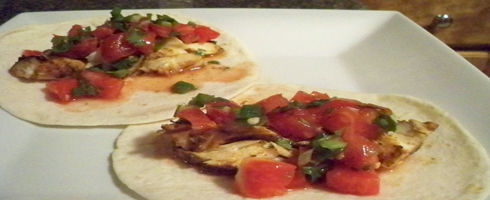 Grilled Fish Tacos are absolutely one of my favorite things to make and eat ever!  I can think of no better way to kick off my 100th post, then by share my special Grilled Fish Tacos with Tomato-Green Onion Salsa with you.  I use Halibut in these tacos, it is my favorite fish and has a delicious non-fishy flavor.  Halibut can be a little pricy, unless you are fortunate enough to live near the fishery.  Any white fish will work well with this recipe, tilapia or cod would be a good option.

If you don't have a grill or if you find yourself craving fish tacos and its raining outside, you can bake them in the oven too.  Simply preheat the oven to 450 degrees, place fish on a cookie sheet and bake for 4-6 minutes or until fish flakes easily.  You can put the tortillas wrapped in foil in the oven right along with the fish.
Grilled Fish Tacos with  Tomato-Green Onion Salsa Recipe
1 tablespoon fresh lime juice
2 teaspoons canola oil
2 garlic cloves, minced
2 teaspoons chili powder
¾ teaspoon ground cumin
¼ teaspoon salt
¼ teaspoon freshly ground black pepper
1/8 teaspoon ground cayenne pepper
1 pound firm white fish fillets (I prefer Halibut)
8 (6-inch) fat free whole-wheat tortillas
Tomato-Green Onion Salsa
Lime wedges
Combine first 8 ingredients in a bowl.  Add fish; toss to coat.  Cover and refrigerate 15 minutes.
Wrap tortillas in foil.  Place fish and tortillas on a grill rack coated with cooking cooking spray.  Grill fish, covered with grill lid, over medium-high heat (350° to 400°) 3 minutes on each side or until fish flakes easily with a fork.
Divide fish among tortillas; top with salsa.  Serve with lime wedges.
Makes 4 servings.
Tomato-Green Onion Salsa Recipe
2 cups chopped tomatoes
¼ cup sliced green onions
1 jalapeno chile, seeded and minced
¼ cup chopped fresh cilantro
1 tablespoon fresh lime juice
¼ teaspoon salt
Combine ingredients in a medium bowl; stir well.  Makes about 3 cups.
Nutritional Information
Per serving: 380 calories, 4 g fat, 0 g saturated fat, 40 mg cholesterol, 29 g protein, 55 g carbohydrates, 4 g fiber, 904 mg sodium