30 Jun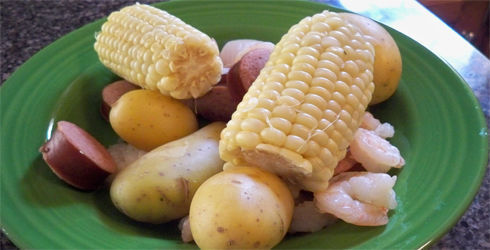 Lowcountry Boil is a classic summertime meal, that is delicious and easy to prepare for a crowd.  It is perfect for beach parties or backyard bar-b-que's.  This Lowcountry Boil recipe is one of my favorites for a few reasons.  It is super easy to make, adding in one ingredient at a time and letting cook a few minutes before adding the next.  It cooks up quick and makes little mess for so much food, making it perfect for large servings.  Also, you can play around with the ingredients a little bit.  If you would like to add some crab legs (or whole crab), you would add them in with the shrimp or instead of the shrimp.  You can also add in some large cuts of carrots or other veggies as you wish.

Here in South Carolina, the Lowcountry refers to the region located along the coast.  It is called the Lowcountry because this area is near or below sea level.  Much of the food from this region includes seafood, as that is what is most abundant.  To keep this dish traditional, serve it with a side of homemade cole slaw and a nice slice of fresh bread.  When making this dish, I like to use spice packets.  I find them easier to use and full of excellent flavor, but you can always use old bay crab seasoning or your favorite seafood seasoning.  The shrimp-and-crab boil seasoning packets can usually be found near or in the seafood section of your local grocer.
Low Country Boil Recipe
3 gallons water
4-6 packets shrimp-and-crab boil seasoning
2 pounds smoked sausage, sliced
15 small new potatoes or red potatoes
8 ears fresh corn, husked and cut in half
4 large onions, quartered
4 pounds unpeeled fresh shrimp
In a very large pot, combine water and seasoning packets and bring to a boil.  Add the sausage and cook 10 minutes.  Add potatoes, then corn, then onion, then shrimp, cooking 4 minutes after each addition.  Save some of the liquid to pour on top of bowls just before serving.  Drain the mixture and remove seasoning packets.  Add a bit of the reserved liquid to each serving, and serve immediately.
Makes 8 servings