4 Sep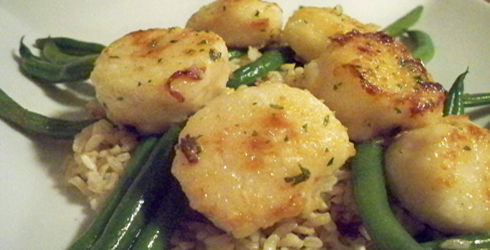 Scallops and Vegetables with Citrus Soy Sauce hold a special place in my heart.  This is one of the first meals I made my husband when we had first started dating.  I love scallops, they are tender and sweet jewels from the ocean.  This dish is great for entertaining, and is sure to please even the biggest seafood skeptic.

The Citrus Soy Sauce adds a little something special to the veggies, but I also like to drizzle it on top of the scallops and rice.  If you are lucky enough to live near a Wegmans grocery store, you can buy the Citrus Soy Sauce pre-made, in the prepared foods section.  If there are no Wegmans to be found, I have provided the recipe below.  It make more than you will need, and tastes great on any seafood.  So it is well worth the extra time it takes to make this sauce.
Scallops and Vegetables with Citrus Soy Sauce Recipe
1 cup uncooked Jasmine rice
salt
2 cups baby green beans, trimmed
2 cups matchstick carrots
1 lbs all-natural sea scallops
2 tablespoons pan searing flour
1 tablespoon olive oil
3 tablespoons basting oil*, divided
1 teaspoon butter
½ cup Citrus soy sauce, recipe below
*Basting oil is garlic infused olive or canola oil with dried thyme and parsley added to it.  Can be found at your local grocer, add about 1-2 teaspoons of thyme and parsley.
Cook rice following package directions.  Blanch vegetables in large pot of salted water.  Drain and set aside.
Dust scallops with pan-searing flour, pat off excess.  Heat olive oil in large skillet on medium heat until oil faintly smokes; add scallops.  Turn when scallops change color one-quarter of the way up from bottom and seared sides have turned paper bag-brown.
Reduce heat to medium-low.  Cook 2 to 3 minutes until internal temperature reaches 120°.  Check by inserting thermometer halfway into thickest part of scallops.  Add 1 tablespoon basting oil and butter; carefully swirl.  Spoon over scallops to baste.  Remove from pan when internal temperature reaches 130°, 1-2 minutes.  Place on clean platter; let rest at least 2 minutes.
Add citrus soy sauce, remaining 2 tablespoons basting oil, beans, and carrots to pan; cook and stir to heat through, 1-2 minutes.  Serve vegetables and scallops over rice.
Makes 4 servings
Citrus Soy Sauce Recipe
1 tablespoon olive oil
1/2 cup ginger, peeled and thinly sliced
1/4 cup shallots, peeled and thinly sliced
1/8 cup garlic, peeled and sliced
1 cup dry white wine
1/8 cup champagne or white wine vinegar
2 tablespoons soy sauce
1 cups grapefruit juice
1 1/2 cups orange juice
1/4 cup fresh lemon juice
1 1/2 cups chicken stock, reduced to 1/2 cup
In a non-reactive saucepan, saute the ginger in 1 tablespoon olive oil for 1 minute over medium heat. Add the shallot and garlic and continue cooking for 1 minute longer. Deglaze the pan with white wine, champagne vinegar, soy sauce, and all 3 fruit juices. Reduce the liquid volume down to 1 cup. Add the chicken stock, bring it to a boil, and cook another 3 minutes. Strain, pushing on the solids to extract as much liquid as possible.
Yield: about 1 1/2 cups
Nutritional Information
Per each serving (3 oz scallops, 3/4 cup rice, 1 cup vegetables) contains 490 calories, 61 g carbohydrates, 7 g fiber, 21 g protein, 17 g fat, 30 mg cholesterol, and 1000 mg sodium.