13 Oct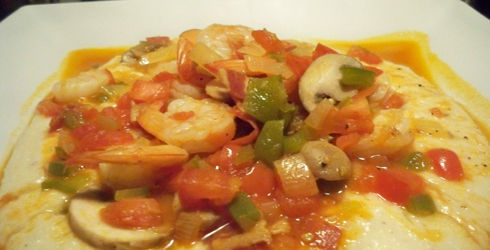 Shrimp and Grits are a classic dish found in lowcountry cuisine, which is cooking traditionally associated with the South Carolina Lowcountry and the Georgia coast.  They are a staple food in this area of the south, and are served for breakfast, lunch, and dinner.  Spicy Shrimp and Grits is the ultimate food.

If you have never had grits before, this is an excellent way to try them out.  This recipe gives you creamy, cheesy grits that are good to eat all by themselves, but with veggies and sauce they are out of this world.  Grits generally don't have much of a flavor by themselves, and when cooking them, be sure to keep your eye on the pot it will boil over very quickly if you don't stir it often.  Trust me, after eating this delicious meal, you don't want to be scraping burnt grits off your stove top.
I like to add the bacon back into the veggies at the end with the shrimp, but you don't have too.  I also like to add in a bit more hot sauce to make sure they have some kick.  But, the real secret ingredient in my version of this southern classic is the evaporated milk.
Spicy Shrimp and Grits Recipe
6 cups water
1 12-ounce can evaporated milk (do not use fat free)
1 ½ cups quick-cooking grits
1 ½ cups (packed) coarsely grated sharp white cheddar cheese
5 bacon slices, chopped
2 cups sliced crimini (baby bella) mushrooms (4 to 5 ounces)
1 cup chopped onion
¾ cup chopped green bell pepper
2 ¼ cups chopped plum tomatoes, divided
1 pound uncooked large shrimp, peeled deveined
1 tablespoon hot pepper sauce, more or less to taste
Bring water and milk to boil in large saucepan.  Gradually whisk in grits.  Reduce heat to medium.  Simmer until grits are thick, stirring often, about 20 minutes.  Mix in cheese, season with salt and pepper.
Meanwhile, sauté bacon in large skillet over medium-high heat until crisp.  Transfer bacon to paper towels.  Add mushrooms, onion, bell pepper, and 1 ½ cups tomatoes to drippings in skillet.  Sprinkle with salt and pepper.  Saute over medium-high heat until vegetables are tender and sauce is thick, about 12 minutes.  Add shrimp, hot sauce, bacon, and ¾ cup tomatoes to skillet.  Saute until shrimp are just opaque in center, about 4 minutes.
Spoon hot grits onto plates; top with shrimp and sauce.
Makes 4 servings