26 May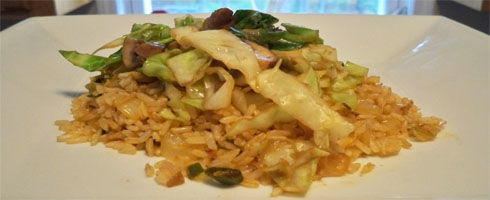 This Asian Fried Rice is everything you'd expect it to be and much more.  Normally fried rice is pretty simplistic in its ingredients.  The Hungry Wife Asian Fried Rice recipe adds in a whole new dimension.  You still get all the deliciousness, but with some extras.  I love that when eating this dish that I can taste each ingredient individually.  Nothing overpowers or takes away from the fried rice, all of it is subtle and perfect.
Hearty enough to be the main dish, you could even add some tofu or chicken for extra protein, but also makes an awesome side.  I think you'll really like the different twist on the usual fried rice.  Feel free to experiment around a little.  Swap the bok choy with other types of cabbage and taste the subtle differences between cabbage varieties.  You can even try out different types of mushrooms to see what you like best.  When I made this last night, I used baby bella mushrooms, which are one of my favorites.  A note on ingredients:  if you are having a hard time finding soy miso in your local grocer, you can also go to an asian specialty store or you can use Better Than Bouillon Vegetable base.  What you are looking for is a soy miso paste that comes in a jar.  This Better Than Bouillon Vegetable base is close to it and will give you a very similar effect.

Asian Fried Rice with Bok Choy Recipe
2 tablespoons peanut oil, divided
1 cup chopped scallions
½ teaspoon paprika
¼ teaspoon ground red pepper
1 tablespoon low-sodium soy sauce
1 tablespoon chili sauce (sriracha)
1 teaspoon of honey or dark brown sugar
4 cups cold cooked rice (white or brown)
1 ½ tablespoons grated fresh ginger
1 tablespoon soy miso
3 garlic cloves, minced
2 tablespoons chopped canned green chili peppers
4 cups shredded bok choy
2 cups quartered mushrooms
1 tablespoon lime zest
½ teaspoon ground cumin
¼ cup chopped fresh cilantro
Turn on the oven to a warm setting (about 150°).  Place a large oven proof platter in the oven.
In a wok or large frying pan over medium-high heat, warm 1 tablespoon of the peanut oil.  Add the scallions, paprika, and red pepper; stir-fry for 1 minute.  Stir in the soy sauce, chili sauce, and honey or sugar.  Add the rice and stir-fry for 2 to 3 minutes, or until the rice is coated with the scallion mixture and is heated through.
Spoon the rice into the center of the platter, leaving a 2" border.  Return the platter to the oven.
Heat the remaining 1 tablespoon oil in the pan.  Add the ginger, miso, garlic, and chili peppers; stir-fry for 1 minute.  Add the bok choy, mushrooms, lime zest, and cumin; stir-fry for 5 to 7 minutes, or until the vegetables are tender.
Spoon the bok choy mixture around the rice on the platter.  Sprinkle the rice with the cilantro.
Makes 4 servings
Nutritional Information
Per Serving:  376 calories, 8.1 g fat, 4.1 g dietary fiber, 0 mg cholesterol, 411 mg sodium
Moosewood Restaurant New Classics, Copyright 2001, Moosewood, Inc., Clarkson Potter, Publishers