1 Jul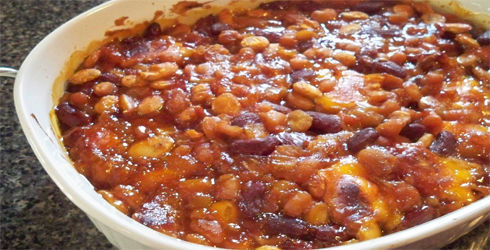 This Baked Beans Recipe is a deliciously different way to prepare homemade baked beans.  Perfect with any summertime dish, Baked Beans are a classic American side dish.  You may think it is easier to just buy the canned baked beans and heat and serve, but one you make this recipe you'll know there is no comparison.  Homemade Baked Beans are far superior to anything you can ever get from a store.

Baked Beans Recipe is the perfect balance of flavors, not too sweet and just the right amount of smoky, salty flavor from the bacon.  The addition of cheddar cheese makes it a little different from traditional recipes, but really delivers an amazing quality and flavor to the dish.  Once you make this Baked Beans Recipe, you will never go back to the canned alternative again.
Baked Beans Recipe
6 slices bacon, cooked and crumbled with drippings reserved
1 medium onion, chopped
1 can (16 ounces) pork and beans, drained
1 can (16 ounces) small lima or small butter beans, drained
1 can (15 ½ ounces) kidney beans, drained
¾ cup firmly packed dark brown sugar
1 cup ketchup
8 ounces cheddar cheese, cubed
Preheat oven to 350°F.  Saute onion in bacon drippings until crisp tender.  Remove onions from drippings, and combine all ingredients in a large bowl.  Put everything in a 2 ½ or 3 quart baking dish and bake for 1 ½ hours.
Makes 8 servings