20 Oct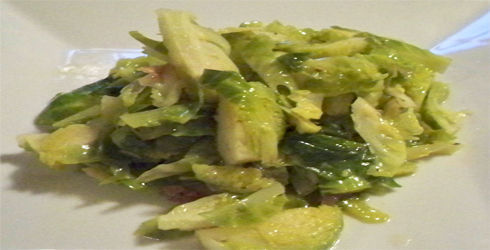 Brussels Sprouts are in the Brassicaceae family, same as cabbage and broccoli.  They are a type of wild cabbage, and cultivated for their small size and delicate flavor.  Plants in the Brassicaceae family contain a chemical called sulforaphane, believed to have potent anti-cancer properties.  Although boiling reduced the level of anti-cancer compounds, steaming, stir-frying, and microwaving does not result in a significant loss.  If you have some picky eaters in your family, that like to avoid cabbage like the plague, Brussels Sprouts and Caramelized Shallots is your secret weapon.

Thinly slicing the Sprouts makes them easier to eat, and for some, more appealing to look at.  Adding the Caramelized Shallots, brings something really special to the dish, and their sweetness brings out the best in the Brussels Sprouts.  My husband has never eaten Brussels Sprouts when I made them before.  I used to just steam them, and he would complain about the smell.  This time, when he came down stairs he raved about how awesome they looked, smelled, and tasted!  He couldn't get enough.  This side dish would be the perfect accompaniment with your thanksgiving meal.
Brussels Sprout Hash with Caramelized Shallots Recipe
6 tablespoons (3/4 stick) butter, divided
1 large shallot, thinly sliced
Coarse kosher salt
Freshly ground black pepper
2 tablespoons apple cider vinegar
4 teaspoons sugar
1 ½ pounds Brussels sprouts, trimmed
3 tablespoons extra-virgin olive oil
1 cup water
Melt 3 tablespoons butter in medium skillet over medium heat.  Add shallots; sprinkle with coarse kosher salt and pepper.  Saute until soft and golden, about 10 minutes.  Add vinegar and sugar.  Stir until brown and glazed, about 3 mintues.
Halve Brussels sprouts lengthwise.  Cut lengthwise into thin (1/8 inch) slices.  Heat oil in large skillet over medium-high heat.  Add sprouts; sprinkle with salt and pepper.  Saute until brown at edges, 6 minutes.  Add 1 cup water and 3 tablespoons butter.  Saute until most of water evaporates and sprouts are tender but still bright green.  Add shallots; season with salt and pepper to taste.
Makes 6 to 10 servings