16 Nov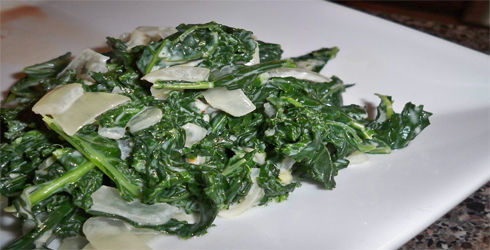 Incorporating vegetables into every meal is a extremely important to healthy eating.  They help fill you up and eat less calories, something everyone is looking for.  Sometimes, finding new ways to make vegetables tasty and different can be difficult.  You don't have to settle with eating the same veggies the same way.  There are plenty of delicious alternate ways to cook veggies and get your family to eat them.  Coconut Cream Kale is one of them.

Coconut Cream Kale is an awesome little dish that makes the greens sing.  It is perfect, especially for those who don't normally like to eat greens.  I was a little apprehensive at first, thinking the coconut might be too strong, but it actually adds a delightful creamy flavor with just the slightest touch of coconut.  It is nice to have a recipe for kale that doesn't have bacon or bacon fat in it.  This is a very special dish, and will be a hit on your holiday table.
Coconut Cream Kale Recipe
2 bags (16 ounces each) Kale
1 tablespoon olive oil
2 ½ cups yellow onions, ½ inch dice
1 teaspoon garlic, minced
¼ teaspoon crushed red pepper
¼ teaspoon salt
1 can (13.5 ounces) coconut milk
salt and pepper to taste
In a large stockpot, blanch kale for 4-5 minutes in boiling, salted water. Transfer to colander; drain. You may have to do this in two batches. Gently squeeze water from the cooked kale; set aside.
Add oil and onions to a braising pan on medium. Cook, stirring occasionally, 5-7 minutes until soft, but not browned. Add garlic, crushed red pepper, and ¼ teaspoon salt. Cook, stirring 1 minute.
Stir in coconut milk. Bring to boil on medium-high. Cook, stirring, 4-5 minutes until thickened. Remove from heat.
Add kale to coconut milk mixture. Cook on medium about 5, until kale is tender. Season to taste with salt and pepper.
Makes 8 servings
Nutritional Information:
Per serving (about 1 cup): 190 calories, 17 g carbohydrates, 6 g protein, 12 g fat, 0 mg cholesterol, 130 mg sodium.