23 Sep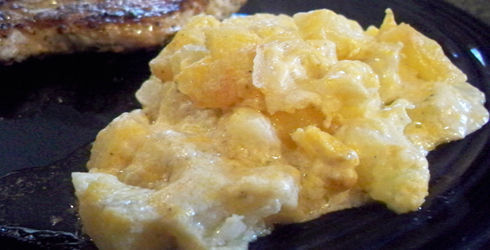 For me, there is no side dish quite as comforting as a cheese Potato Casserole.  This is probably why I have two different recipes for Potato Casserole on The Hungry Wife.  Easy Potato Casserole is similar to my Potato Casserole Recipe, but a bit easier and faster to make.

Both recipes are full of creamy, cheesy, potato goodness. The big difference is that Easy Potato Casserole is cooked in the oven, while the other is slow cooked all day.  Easy Potato Casserole is minimal in the ingredients, with only 5!  Using frozen, cubed hash browns saves time on chopping all those potatoes.  The french onion dip adds in a super creamy and amazing flavor.  This is not the healthiest recipe out there, but sometimes it is good to indulge.  I love serving cheesy Potatol Casseroles when the weather cools down, and you need something hearty to warm you up.  Serve along side a simple chicken dish to make that perfect fall meal.
Easy Potato Casserole
1 (28 ounce) bag frozen cubed Hash Browns
1 (12 ounce) container French Onion dip
1 can cream of broccoli soup
2 cups shredded Cheddar cheese
1 stick of butter, melted (I butter the pan with some of it first)
Salt and pepper to taste
Mix all ingredients, adding potatoes last and put in buttered 9×13 inch casserole dish.  Bake at 350°F for 1 to 1 ½ hours, until bubbly and slightly browned.