15 Apr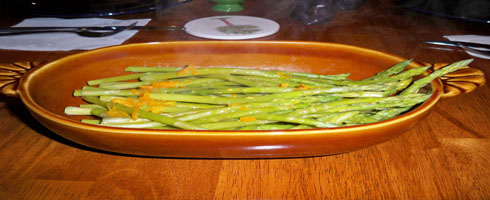 A side dish so simple and delicious everyone will love it.  A new way to eat asparagus.
Fresh Asparagus with Orange Sauce Recipe
5  tablespoons butter or margarine
2  tablespoons freshly grated orange zest
¼ cup fresh orange juice
1 ½ pounds asparagus, trimmed
Bring first 3 ingredients to a boil.  Reduce heat and simmer until mixture is reduced by half and slightly thickened.  Meanwhile, steam asparagus 5 to 7 minutes or until tender.  To serve, pour orange sauce over asparagus.
Yields: 4 Servings