29 Sep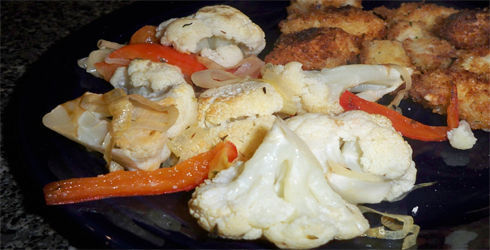 Roasted Cauliflower is a great way to get yummy veggies into your families diet.  I found this recipe while watching a cooking show, and couldn't help but give it a try.  Simple, with just enough seasoning to make it super special.  If you are looking for a recipe that makes veggies shine, this is it.

Often, I find myself so focused on the main dish, that my sides are barely given a second thought.  I usually just steam some mixed veggies and toss with a touch of butter and seasoning salt.  I was searching high and low for a delicious, easy way to prepare veggies.  Roasted Cauliflower is the perfect recipe to make when you don't want to spend a ton of time on your side dish.  I knew Roasted Cauliflower was a hit when my husband was shocked that he liked it and went back for seconds.  He is always willing to try my new recipes, but I know it is worthy of The Hungry Wife when he fully approves.
Be sure to try this side dish, I'm willing to bet it will become a regular at your dinner table.
Roasted Cauliflower Recipe
1 head cauliflower, cut into large florets
1 leek, thinly sliced, white and pale green parts only
1 red bell pepper, thinly sliced
¼ cup olive oil
2 tablespoons fresh lemon juice
1 tablespoon Dijon mustard
1 tablespoon chopped fresh thyme
½ teaspoon salt
Preheat the oven to 400°F.  Line a rimmed baking sheet with aluminum foil.  Place the cauliflower, leeks, and red pepper in a large bowl.  In a small bowl, combine the olive oil, lemon juice, Dijon mustard, thyme and salt with a whisk.  Pour onto cauliflower mixture, tossing gently to coat.
Evenly place cauliflower mixture onto baking sheet.  Bake for 35 to 45 minutes, stirring occastionally, or until cauliflower is tender.  Serve warm.