7 Oct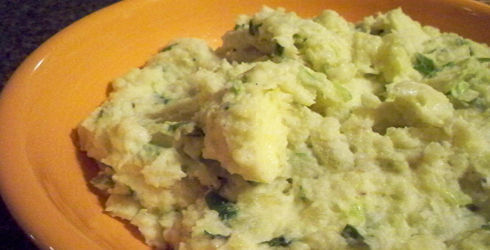 Mashed Potatoes are my favorite side dish, they go along with nearly everything (I think so at least).  I like them hand mashed so they are still chunky, with butter and salt.  That was true unti I found Wasabi and Green Onion Mashed Potatoes.  I never thought that wasabi would be something I wanted mixed in foods other than sushi, but it really adds something extra special to the potatoes.  The amount called for in this recipe is the perfect amount, just enough to add some flavor, but not overpower the other delicate flavors.  The amount of "heat" can be adjusted to you taste, if you wish.

I love the salty flavor that the sesame oil adds, a little goes a long way and tastes amazing combined with the wasabi.  Pump up your mashed potatoes next time you and you will never want to go back to plain butter and salt/pepper.
Wasabi and Green Onion Mashed Potatoes Recipe
3 pounds Yukon Gold or Yellow Finn potatoes, peeled, cut into 1 ½ inch cubes
1 cup whipping cream
½ cup (1 stick) butter
2 tablespoons wasabi paste (horseradish paste)*
2 tablespoons Asian sesame oil
1 cup chopped green onions
Bring potatoes to boil in large pot of water.  Reduce heat to medium; cook until tender, about 17 minutes.  Drain well.
Meanwhile, bring cream, butter, and wasabi paste to simmer in small saucepan over medium heat, stirring until butter melts.  Season with salt and pepper.  Keep hot.  Heat oil in small skillet over medium heat; add green onions and sauté until wilted, about 3 minutes.  Set aside.
Using potato masher in same large pot, mash potatoes.  Stir in hot cream mixture.  Season with salt and pepper.  Stir in green onions.
Do Ahead Can be made 2 hours ahead.  Let stand at room temperature.  Rewarm in microwave, stirring occasionally.
*Available in the Asian foods section of some supermarkets and at Japanese markets nationwide.
If wasabi paste is unavailable, use powder instead to make your own.  Place 3 tablespoons powder in small bowl.  Stir in 1 tablespoon water; add more water by teaspoonfuls as needed to form thick paste.