21 Apr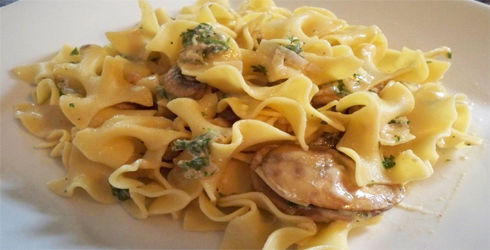 Mushroom Pasta Recipe is a simple dish to make, perfect for those busy weeknight meals.  The best thing about this recipe though, is that it is low fat so you can feel good about serving it to you and your family.  The recipe results in a creamy dish, full of flavor with no heavy cream in sight.  So much so, that you will have a hard time believing it is low fat.

To kick up the gourmet factor of Mushroom Pasta, use a couple different types of mushrooms.  A wild mushroom mix is delicious, or you can just use a combination of baby bella and white mushrooms.  To save yourself some time, buy pre-sliced mushrooms.  So much easier than slicing them by hand.
Recipe: Mushroom Pasta Recipe
Summary: Mushroom Pasta Recipe is a simple dish to make, perfect for those busy weeknight meals
Ingredients
12 ounce box whole wheat fettuccini, linguine, or wide egg noodles
12 ounces mushrooms, sliced
4 tablespoons olive oil, divided
1 large shallot, chopped
2 tablespoons butter
½ cup low fat sour cream
½ cup vegetable broth or stock
1 teaspoon salt
1/2 teaspoon pepper
1 ½ teaspoons garlic oil
½ cup fresh parsley
1/3 cup parmesan cheese
Instructions
Bring a large pot of water to a boil, seasoned with salt.
In a nonstick pan, over medium-high heat, add 2 tablespoons of olive oil. Spread out the mushrooms and shallots in the pan, try to keep a single layer. Saute for approximately 5 minutes without touching or moving the mushrooms. Then flip them over and leave them sautéing for another 5 minutes*.
When pasta is cooked al dente, drain and add pasta to the pan with the mushrooms, toss thoroughly.
Add butter, low-fat sour cream, vegetable broth, remaining olive oil, salt, pepper, garlic oil, and parsley.
Toss all ingredients together, until mixed well and butter is melted, vegetable broth is absorbed. Add parmesan cheese just before serving, tossing well.
Quick notes
*Tips on mushroom cooking – Don't overcrowd the mushrooms in the pan; you don't want them to get watery. The idea is to brown them. Do not add salt – add nothing. Salt makes them soggy and watery.
Preparation time: 5 minute(s)
Cooking time: 15 minute(s)
Diet type: Vegetarian
Number of servings (yield): 4
Culinary tradition: Italian
Rating 5 stars:  ★★★★★ 3 review(s)
Copyright © The Hungry Wife.