10 Feb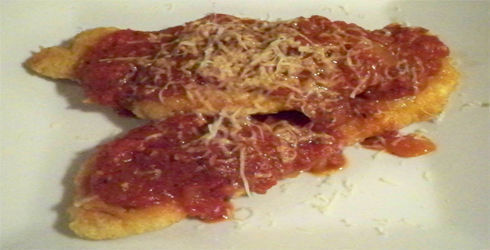 Chicken Parmesan is a good recipe everyone should have…or two, as this is the second one found on The Hungry Wife.  Although similar recipes, this one is particularly wonderful for a weeknight meal.  Easy to prepare, I like using thin cut chicken breast halves so I don't have to pound the chicken thin.

Getting a little bit away from the traditional Chicken Parmesan, you do not bake this recipe at all.  By not baking the chicken in the oven with sauce, you get to keep the crispy breaded crust around the chicken, one of my favorite parts.  You also get to control the amount of sauce that goes onto your meal by adding it on individual plates, just before serving.
This dish is perfect served with a small side of pasta or delicious mixed vegetables.  Chicken Parmesan is a wonderful, fast to make comfort food for those busy weeknights.  Even the pickiest eaters are sure to love this dish.  It is also a great way to make use of all that Weekend Tomato Sauce you cooked up and canned.
Chicken Parmesan Recipe
½ cup all-purpose flour
½ teaspoon salt
¼ teaspoon black pepper
2 large eggs, slightly beaten
1 tablespoon milk
¾ cup breadcrumbs
1/3 cup freshly grated Parmesan cheese
4 boneless, skinless thin cut chicken breast halves
1/3 cup butter
2 tablespoons vegetable oil
Weekend Tomato Sauce or store bought sauce
In a small bowl, combine flour, salt, and pepper; set aside.  In a separate bowl, combine eggs and milk.  In a flat dish, combine breadcrumbs and Parmesan cheese.  Dredge chicken breast halves in flour mixture and shake off excess.  Dip in egg mixture and dredge in breadcrumb mixture, coating well.  Let stand 30 minutes.  In a skillet, sauté chicken in butter and oil over medium heat 5 minutes on each side until golden brown and chicken is done.  Top with Weekend Tomato Sauce.  Serve with a side of pasta or vegetables.
Makes 4 servings