25 Apr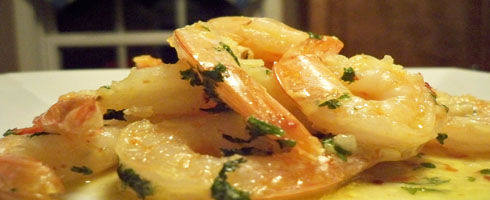 This Folly Beach Garlic Shrimp is designed to be made for a crowd who enjoys seafood, and its great as an appetizer or as the main dish.  You could even make some angel hair pasta or linguine and toss the Folly Beach Garlic Shrimp with it for a nice pasta dish.  Personally, I feel you don't even really need to measure the ingredients.  I just add as much or as little as I want of each ingredient, so don't be afraid to play around until you find that perfect combination for your palette.  Also, I do not use very many bread crumbs, instead, just more of a dusting as compared to what is in the actual recipe.
Folly beach is located on the historic Folly Island in Charleston SC.  This low-country location is famous for its shrimp and its surfing.
Folly Beach Garlic Shrimp Recipe
4 dozen large fresh shrimp
½ cup olive oil
½ cup chopped fresh parsley
6 cloves garlic, minced
1 teaspoon dried red pepper flakes
½ cup butter, melted
½ cup bread crumbs, toasted
1 cup grated Parmesan cheese
Preheat oven to 300°.  Peel and devein shrimp.  Pat dry with a paper towel.  Arrange shrimp in a single layer on a baking sheet (with sides).  Drizzle oil over shrimp and sprinkle with parsley, garlic, and red pepper flakes.  Cover with foil and bake for 15 minutes.  Uncover and turn shrimp over.  Drizzle with butter and sprinkle with bread crumbs and Parmesan cheese.  Bake uncovered for 5 to 10 minutes and serve.
Yields 4 servings.